Our small gathering is set for the 26th to the 29th of August 2021.
Location
We're coming home! We are very happy to welcome you once again to a truly beautiful and multifaceted location.
In the south of Saxony-Anhalt, about 125 km from Berlin and Dresden and about 70 km from Leipzig the location is quite central and easy to reach. The exact coordinates get delivered via mail to the email address used for the ticket purchase. If necessary you can request the coordinates by sending a copy of your ticket PDF to info@gaggalacka.de.
At the center of our festival area lies a magical small forest which hosts the Chill-Thrill-Kill-Out-Floor which we will build and decorate even more colorful this time around. Right next to it you will once again find some enticing opportunities to shop for clothes and goodies. The Psytrance-Stage and the gaggalacktic firespace is located at the white beach. A bit further away from the action you can find workshops and the healing area for restoring your energy.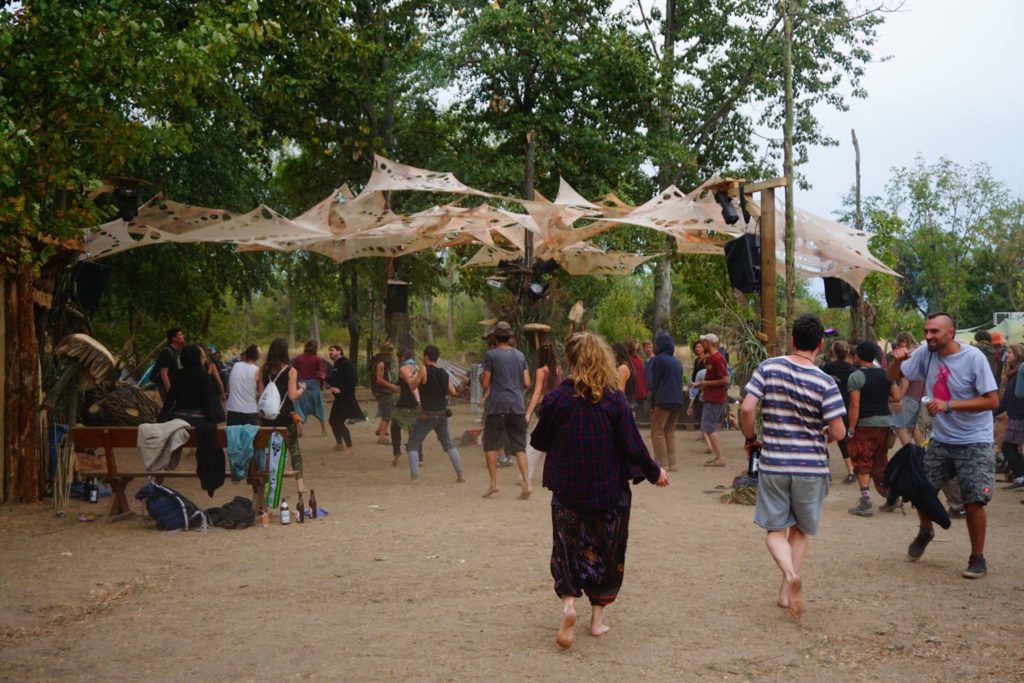 Festival Rules
Please read and respect the following rules so that we all can have a wholesome time together.
FIRST AND FOREMOST – THIS IS COMMON SENSE, REALLY:
NO SEXISM * NO HOMOPHOBIA * NO RACISM * NO ANTISEMITISM
TICKETS
It is important to us to preserve the familial atmosphere of the festival, go easy on the location and also adhere to the legal requirements imposed by the pandemic. This is why the tickets are limited and only available in the presale. Tickets bought for the 2020 edition of the festival (which was postponed) are valid this year. There will be absolutely no tickets sold at the gate! If you don't have a ticket, you can not get in. Please understand that we can not make any exceptions, especially under the current circumstances.
Ideally print out your ticket on A4 paper to enable a quick and hassle free entry procedure.
To avoid mandatory face masks on the festival area we create a safe-bubble for you. Please also take note of the information on that page.
Further information about the tickets you find on this page.
TRAVEL
We want as few cars as possible on the festival area and the campground. Therefore you are encouraged to share rides wherever possible! Useful for organizing this is the Goabase-Entry of our event and the Facebook group. For people arriving by train, there will be taxi service from the train station to the festival area. Also in this case grouping up for sharing the ride helps everyone.
More detailed information on traveling will be or has been sent to your inbox after purchase of the ticket. If you have not received this information, send a copy of your ticket PDF to info@gaggalacka.de for further instructions.
CAMPING
Because of the small size the campground will be car-free, meaning tents only. Please share rides or use public transport to get to the area and refrain from setting up spacious living rooms on the campground. Our shared living room will be the the festival area itself with the two lovingly constructed dance floors. Cars will be instructed to park on a designated area 5 minutes away from the camping grounds.
In the Caravan Village we provide space for everyone unable to abandon their hippi trucks and campervans. Please understand that because of the limited space, tents should not be placed in the caravan village.
CHILDREN / PROTECTION OF MINORS
Persons below age 18 can only enter the festival area in company of an adult who is their legal guardian. In this context the child can enter the festival ground without a festival ticket as long as the adults themselves have a valid ticket.
Please carefully consider whether you can and want to carry the responsibility for your child for the entire duration of the festival. We are an art and music festival and though we consider ourselves family-friendly, we can say from experience that a festival is not a safe space for children, hence we can not put out a recommendation to bring them along. You'll have to use your own judgment whether you will be able to keep your children safe and looked after.
ANIMALS
Please abstain from bringing your pets to the festival. It is our opinion that the amount of people and the volume levels on a festival only create unnecessary stress for your animals and not beneficial to the atmosphere as a whole.
If you can't find a sitter for your dog, you can turn to one of the following boarding kennels close to the festival location:
Hundepension Banemann
Frau Jutta Banemann +49 (0) 173 8988489 Hauptstr.81, 04886 Großtreben
Hundepension Wolf
Herr Hans-Jürgen Wolf +49 (0) 3537 214010 / +49 (0) 171 6867931 Gerbis Vorwerk 1, 06917 Jessen
Hundehotel Graditz
Frau Margitta Schneider +49 (0) 3421 7015211 / +49 (0) 172 7885436 Dorfstrasse 31 a,04860 Torgau/OT Graditz
Hundepension Coryell
Frau Birgit Coryell +49 (0) 35386 799522 / +49 (0) 35386 799522 Lindenstr 12, 06925 Annaburg
Tierpension Tierheim Wittenberg e.V.
Herr Jürgen Krause +49 (0) 3491 79 49 232 Belziger Chaussee 18, 06886 Lutherstadt Wittenberg
Hundepension Elbe Elste
Frau Daniela Sucker +49 (0) 35341 12512 / +49 (0) 172 2614328 Dorfstraße 5, 04924 Bad Liebenwerda
Doggy Wellness Farm
Frau Sabine Rothe +49 (0) 33747 61881 / +49 (0) 177 3302341 Pflügkuffer Dorfstraße 13, 14929 Treuenbrietzen
Hundezentrum Leipzig Hundepension
Frau Yvonne Heide / Frau Maika Könnecke +49 (0) 176 32269081 Graßdorfer Straße 46, 04425 Taucha
Hundezentrum Elbaue
Herr Frank Griebsch +49 (0) 172 3406087 Buroer Aueweg 21A, 06869 Coswig/Anhalt
Steffi´s Hundewelt (Hundepension & Hundeschule)
Frau Stefanie Fuchs +49 (0) 3533 488057, Liebenwerdaer Straße 20, 04910 Kraupa
ENTRANCE
The gates to the campground open on Wednesday the 25th of August at 12 pm. From Thursday 4 pm onwards you can enter the festival area itself. The camping area should be vacated by Monday the 30th of August.
You need to present a negative COVID test, proof of cure from the COVID disease or a certificate of vaccination. Please understand that we can not avoid this within the currently imposed regulations.
Ideally print out your ticket on A4 paper to enable a quick and hassle free entry procedure.
TOILETS / SHOWERS
There will be a proper sanitary area which is cleaned regularly where you can shower, for free! Additionally we set up eco-friendly sawdust composting toilets, so you don't need to walk far to relieve yourself. Please be sensible and use these options instead of polluting the surrounding bushes and forest with your produce and used toilet papers.
SWIMMING
We trust that you are able to care for your own safety and you may enjoy the surrounding waters, but please do so only in the daytime and when sober. Be aware that there is no lifeguard in duty and the lake is not part of the official festival area. Children may only go swimming under the supervision of their parents.
TRASH
Some amount of trash is unavoidable, but please be conscious and keep the space clean. We will equip you with trash bags and optional portable ashtrays at the gates and we appeal to your cooperation to avoid trashing the area during the whole duration of the festival. Containers are available to dispose of your filled up trash bags when you departure, and in case of need additional trashbags are available at the info point. Do not leave any mess behind and be considerate for your environment. This has been working well in the past we dare say, that if you are unable to behave according to this mentality, you will have a hard time to sync up with the festival spirit and may as well stay at home. Thank you for your support!
FIRE
To protect the space no open fires are allowed on the whole festival area exept for the designated fire area on the beach where skilled fire artist also have the opportunity to give a demonstration of their abilities.
DRUGS
Please note that distribution and consumption of illegal drugs is not permitted on the festival area. We are bound by the same laws as everyone else, if you violate them, you can get exempt and face legal consequences.
NO PRIVATE SOUND SYSTEMS
Please be considerate to your camping neighbours and do not bring your own sound systems! We provide plenty of high quality music throughout the whole duration of the festival – if you don't agree with the musical program, you may have come to the wrong event to begin with, and setting up your own alternative musical program is not a very respectful solution for that.
NO CONFETTI
Please absolutely no confetti and glitter, because it is simply impossible to get rid of it. Our location is in a landscape protection area so please in general be very mindful about which kind of materials and substances you might leech into the area.
INFO POINT
Trash bags, timetable, helpline, time, taxi phone, ash trays and more you can find at the InfoPoint. If you want to help out in the festival and potentially get your ticket fees refunded, this is also the place to ask where help is needed.
LOST & FOUND
If you lost something, or find something that looks like it is important to someone else, the InfoPoint is again the place to turn to. It will be open throughout the festival and also on Monday during the day. You have the option to write to lost@gaggalacka.de after the festival if you are still missing things. What stays behind will be given to charity after the end of 2021.
FIRST AID
Next to the InfoPoint you can find help for any physical and psychological ailments you may face during the festival. For any critical emergency you should always directly call the emergency help line (112 in Germany).
PHOTOS / VIDEOS
Please respect other peoples right to their own pictures and don't mindlessly pump every bit of information into your social networks. Seize the moment instead of trying to capture it. We will have one or two photographers on the area that will create a mindfully curated photo album of the festival. Be aware that there will be pictures and grant us your most beautiful smile :).
SHOPPING
Because of the Safe-Bubble you can actually not leave the festival area during the weekend – but we provide a small shop on the festival ground that should cover all your basic needs.
SAFETY
The instructions of the security and festival personel has to be respected and adhered to.
LIABILITY
Each guest is liable for any damage caused by him/her. There will be no replacement in case of loss of the festival ribbon. Gaggalacka e.V. is not liable for damage caused during performances. As organiser, our liability for our own actions and those of others is generally limited to cases of intent and gross negligence. This does not affect the organiser's liability for initial impossibility and the breach of essential contractual obligations (so-called cardinal obligations), as well as liability for damages arising from injury to life, limb or health that are based on a negligent breach of duty by the organiser, a legal representative or vicarious agent.
RESPECT THE NATURE
Please respect the nature, don't put your trash and toxic cosmetic products into the environment and keep the space healthy and beautiful. Nature will thank you for this, as well as us.
If all of this can be realized (and we honestly think it's not too hard) we can assure you – it will be a f*cking amazinly beautiful time – together ♥ ♥ ♥
In this spirit, as usual: take care of each other, respect each others freedoms and needs and most of all: play together!